15 Of The Best Life Quotes BY The Richest man EVER Jeff Bezos
The Famous Laugh!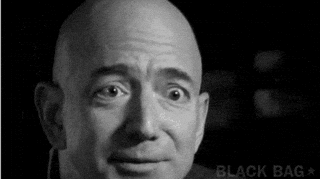 Jeffrey Bezos is an American technology entrepreneur, investor, and philanthropist. He is the founder, chairman, CEO, and president of Amazon. The company began as an online bookstore and has expanded to a variety of products and services. He founded aerospace company Blue Origin in 2000. On July 27, 2017, he became the world's wealthiest person when his estimated net worth increased to just over $90 billion. He was named the "richest man in modern history" after his net worth increased to $150 billion in July 2018.
This is Jeff Bezos favourite motivational quote that he has on his fridge
Below are 15 Motivational quotes by Jeff Bezos
1. "If you double the number of experiments you do per year you're going to double your inventiveness." – Jeff Bezos
2. "Life's too short to hang out with people who aren't resourceful." – Jeff Bezos
3. "A brand for a company is like a reputation for a person. You earn reputation by trying to do hard things well." – Jeff Bezos
4. "One of the only ways to get out of a tight box is to invent your way out." – Jeff Bezos
5. "What we need to do is always lean into the future; when the world changes around you and when it changes against you – what used to be a tail wind is now a head wind – you have to lean into that and figure out what to do because complaining isn't a strategy." – Jeff Bezos
6. I believe you have to be willing to be misunderstood if you're going to innovate. ― Jeff Bezos
7. If we think long-term we can accomplish things that we wouldn't otherwise accomplish. Time horizons matter. They matter a lot. ― Jeff Bezos
8. You have to be willing to be misunderstood if you are going to innovate. ― Jeff Bezos
9. If you can't tolerate critics, don't do anything new or interesting. ― Jeff Bezos
10. "If you're not stubborn, you'll give up on experiments too soon. And if you're not flexible, you'll pound your head against the wall and you won't see a different solution to a problem you're trying to solve." Jeff Bezos
11. "We have focused like a laser on customer experience, and that really does matter." Jeff Bezos
12. "Frugality drives innovation." Jeff Bezos
13. "We see our customers as invited guests to a party, and we are the hosts. It's our job every day to make every important aspect of the customer experience a little bit better." Jeff Bezos
14. "All businesses need to be forever." Jeff Bezos
15. "Keep our competitors focused on us, while we stay focused on the customer." Jeff Bezos
Below is a video of Jeff Bezos Life.